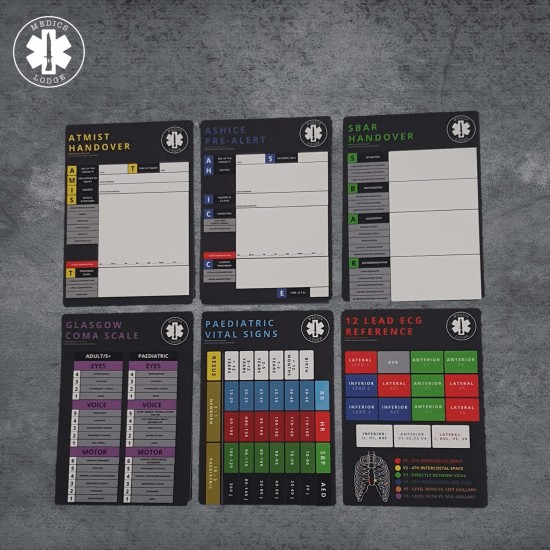 Aid-Sheets (A6 3-set) by Medics Lodge - A must have for any grade of Medic!
Stock:

In Stock

Model:

Aid-sheets (3 set)

Weight:

100.00g
1917 samples sold
Product Views: 1888
A set of 3 A6 flexible but robust PVC sheets with 6 useful medical aid prints. Perfect for student/qualified paramedics and other clinical grades within the prehospital sector in the UK. These prints can be wiped clean allowing for multiple uses (we recommend whiteboard markers and non-permanent pens). These sheets are extremely popular and fly off the shelf. The sheets consist of the following 6 aids;
ATMIST Handover
ASHICE Pre-alert
SBAR Handover
Adult/Paediatric GCS
Paediatric Vitals Signs
12 Lead ECG Reference Guide
Please note that they are PVC sheets and not thick plastic so caution is needed when storing/handling this product. They're robust but flexible and can be subject to wear and tear if not looked after. We slot ours in-between our JRCALC / Urgent care handbooks.
Size: A6